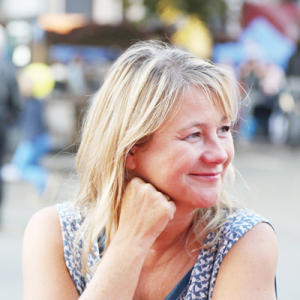 Debra Kidd
---
I meet Debra Kidd, outspoken author and former teacher, in a café off a bustling main road in Manchester's West Didsbury. It is a far cry from when she lived here more than 20 years ago.
"It's changed so much . . . it has definitely gone up in the world and the schools in the area have probably helped to mould that change," she says in her soft Lancashire accent, as ever passionate about the influence education has on everybody's future.
The former teacher, turned blogger and author, is known for her outspoken views, not least after an open letter she wrote almost 18 months ago to then education secretary Michael Gove about his reforms gained more than 4,000 signatures. In her words, it "went a bit mental".
Her desire to stand up for her views is clearly embedded in her school life and childhood.
She grew up in Burnley, "on the football terraces mostly", and was in the first cohort to miss the 11-plus and go to Ivy Bank High School in its first year of comprehensive status, in 1979.
"All the children older than us were doing things like hairdressing courses and mechanics, lots of vocational courses and CSEs, and I am not quite sure the school really knew what to do with this new group of children they had which was much more of a mixed ability.
"But it was a really good grounding because it meant that I grew up being able to mix with all kinds of people and I understood that people have different strengths. It toughens you up. I also learnt to play hockey and defend well," she says, laughing.
Asked whether it was this background that made her want to stick up for others, she says: "I think so. I spent quite a lot of time being bullied at secondary school. I played the piano – that was a big mistake, so was doing well in a maths test.
"I learned by the end of it that you should still say what you think and you should just take what comes to you on the chin.
"Ultimately people respect you more for being consistently gobby, than for compromising on the ideas or the thoughts that you have. So yeah, I did learn to speak up and stick up for myself."
Debra did not stay in the state system to do her A-levels. Her father had set up a business so could afford to send her to a nearby private school for her sixth form studies.
"I am sure that he thought he was "saving me" from the state system.
"But in terms of quality of teaching there ended up being very little difference and, in fact, it was probably better on the whole at the comprehensive because the teachers were used to having to keep people engaged.
"I felt like I saw both spectrums in society in a way and I had to integrate at both ends.
"Now when I think about the private/state divide, I see people thinking that they are buying a bit of safety and social networking for their children. It's not really about the quality of education at all."
After school she headed "down south" to London, for the first time, to study English and drama at what was then Westfield College (now part of Queen Mary University).
The young Debra wanted to be a music teacher. She was the first in her family to go to university and had aspirations to be like those teachers she had met at school.
"The only graduates I had ever met in my life were teachers. So, if you were going to be aspirational, then becoming a teacher was an aspirational goal. My music teacher, I loved her, so to look up to her and think I could be her was really inspiring."
But her tutors were not keen on her plans, a derogatory attitude that pushed her into the world of PR and advertising. But her strong spirit prevailed.
"I felt like I was selling my soul," she says, again laughing. No matter what the subject, Debra looks at it with a positive attitude.
"I remember working on a water privatisation campaign for the Conservative party. I had gone from the Lynx anti-fur campaign, which felt like it had validity, to something that I was vehemently opposed to politically. I realised I didn't want to be in a profession where I would compromise my principles like that.
"So I applied to become a teacher. Then I fell pregnant and had to defer for a year."
But teach she did, and it is where she spent the past 21 years until July year — in every tier of the school world, starting in a sixth form before moving to primary and secondary schools, and university.
"People respect you more for being consistently gobby, than for compromising on ideas or thoughts"
The mother-of-three stuck to schools in the Oldham area, wanting to move back close to her parents when her oldest son was born and to do her PGCE at Manchester University in the 1990s.
But despite her clear love for the profession, she stopped teaching in July, exhausted, stressed and disillusioned.
"I suppose one side of it was me thinking that I have to step out and do something, I have to have some kind of effect, and the other thing was that I was just starting to feel the relentless treadmill of chasing data."
It is here where you can really see Debra's passion, and her self-proclaimed gobby-ness, come to the front. She worries that children's other talents – in drama, sport, and art – are being looked at as only secondary to academic accomplishment.
Was it triggered by her letter to Michael Gove? "I got home on the first day of that Easter holiday and sat down and wept, and just thought I don't know if I can carry on doing this job. Then I saw him on BBC's Question Time with the 'yadda yadda' and 'enemy of promise' and I just thought how dare you. I sat down and wrote the letter and it went a bit mental," she chuckles.
But the Michael Gove incident cannot be solely responsible for her exit from teaching.
"It was after a particularly difficult week at work where I had spent about 15 hours putting data into a computer, and I knew that none of it was really honest data because we were being told to make charts turn from red to green. The children had just done a Shakespeare unit and had struggled with it a little bit, so to try show any kind of progress was just fictional, everything was fictional.
"I think that was the trigger that really pushed me over the edge. I was thinking 'I am not doing this for children any more, I am doing this for the school and to make everybody look good'."
Since taking a step away from teaching, Debra has taken on a number of roles – including writing a book describing her concerns about education. With a following of almost 5,000 people on Twitter, and a popular blog, the impact of the book is likely to be strong – but her willingness to speak out does, occasionally, get her in trouble.
"I do get carried away. Rather than me thinking that I have lots of influence, sometimes I feel like I am in a private conversation and forget that there could be up to 5,000 people following it."
She says her only regrets are jumping on those who aren't capable of "looking after themselves", such as young teachers, but adds: "I don't regret the thumping of heavyweights. I'm from Burnley!"
It is this outspoken streak that she feels would put heed to any future in politics. "I could never be measured enough not to speak my mind if I felt something needed to be said."
What do you do to relax?
Swim. I do yoga as well. But when I get in the pool and set off I don't think about anything but getting to the other side. Just to have 30 or 45 minutes when you are not thinking about anything else is liberating.
Favourite book?
The Poisonwood Bible by Barbara Kingsolver. It's about a missionary teacher who takes his wife and four girls to the Congo to try to convert the natives, and is a really searing account of how our attitudes towards other people are so misaligned.
You obviously have a strong passion for music, what's
your favourite album?
Oh God! My favourite album? Two things really jump out at me. That first Stone Roses album will always be a favourite: it is from when I was younger and it was the whole kind of Manchester music scene.
But when I was 15, my music teacher took me to see the Hallé Orchestra. I had never heard any classical music, ever, and they were playing Rachmaninoff Second Concerto. It was like a whole new world. I still love that piece of music because it takes me back to that moment where my brain was ripped open to this amazing thing.
What's your favourite place and where do you want to go?
I do some work for the International Schools Theatre Association, so about three or four times a year they will send me to different places in the world and I work with children for three or four days to put a piece of theatre together. In January I am going to the Urals in Russia. I've been to several places in China, really enjoyed that, and I went to Singapore last year. But I just love turning up somewhere that I have never been before, meeting a group of kids and making some theatre based around the place that we are in.